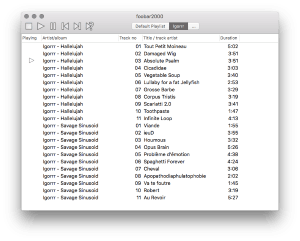 Download foobar2000 for Mac
This application is provided as-is. It is by no means complete and is not currently under active development, though most of the features implemented are known to work reasonably well.
Current version (beta)
foobar2000 for Mac, v2.1.13 beta
System requirements
Mac OS 10.11 "El Capitan" or newer.
Version 2.1.13 highlights
FTP client fixes.
Properties dialog bug fix, adding custom fields now works correctly.

Version 2.1.10 highlights
Fixed toast messages not working in some cases, playback errors in particular.
Better feedback when attempting to play a DRM protected WMA file.
M3U playlist handling fixes.
Discussion forum thread:
Visit hydrogenaudio forums